Shane got sculpted abs in less than 6 months!
Shane Williams, from England, saw the first results in 5 days! How is this possible?
Many of us are facing the same challenge. A slow metabolism makes any attempt at weight loss difficult and demotivating. But Shane showed us that it is possible to get abs even if you have never had them before.
Shane has always been a little overweight and has never had abs before. Since he's a car salesman by profession, he works long hours. There are often stressful days that make leading a healthy lifestyle very difficult.
The moment that changed everything
He decided to try losing weight again, although he had very low expectations.
"I weighed 93 kilos at the time and couldn't get rid of stubborn abdominal fat," Shane tells us. He was used to having a slow metabolism throughout his life, but something had to change.*
"It was then that I discovered PowGen. I decided to order the draining and the fat-burning drink and the capsules that remove abdominal fat." He hoped for the best, but could not believe his eyes once he saw the first results.
Easy Burn, Turbo Fix, and 6Pack Accelerator turned out to be a perfect choice!
All three products combined help:
eliminate excess water retained in the body
stimulate the lymphatic system
burn belly fat
accelerate weight loss
improve digestion
elevate energy levels
"PowGen has done wonders for my body! For the first time in my life, I started noticing my abdominal muscles. I noticed the first results after 5 days!" he says enthusiastically.*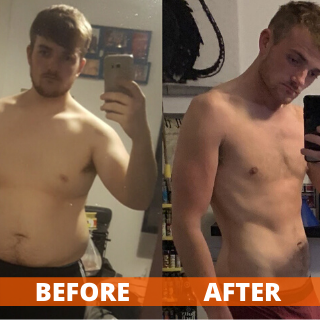 Shane has achieved his goal now: "I'm full of energy now and my new sculpted belly gives me motivation and confidence."
Shane's transformation is a huge inspiration for all of us, but most importantly, it's helped him feel more confident.
Shane: "PowGen helped me get rid of belly fat and made me feel like a completely different person. I never felt good in my body, and now I finally believe in myself."
Well done, Shane! We are very happy for you!
60-Day Transformation Bundle
Shane has transformed his body and achieved his goals thanks to the 60-Day Transformation Bundle. The 60-day programme contains 5 TOP products that eliminate excess water and swelling, burn body fat, help lose belly fat, and speed up metabolism.
*[Results may vary. Dietary supplements should not be used as a substitute for a varied and balanced diet and a healthy lifestyle, which are important]