How Virgilio amped up his results with PowGen: "I look better at 38 than I did at 28!"
Busy at work, busy at home and never any time for a workout. Sound familiar? Virgilio is crushing it as an architect, firefighter and dad, but his hectic lifestyle makes it difficult to eat healthily and get enough exercise – and yet, he's managed to get in the best shape of his life, at age 38. Here's how he did it!

Virgilio used 5-in-1 Preworkout along with other products from the PowGen range to turn his body into a lean, mean fat-burning machine and is now looking and feeling better than ever! But that's not how things used to be...
"I felt insecure"
While he's currently at the top of his game, Virgilio has not always felt confident about his body: "As a kid, I used to be a bit rounder and the kids in school used to make fun of me". This damaged his self-confidence: "I felt insecure because of the jokes and the bullying", he says.
As a teenager, Virgilio decided to lose weight and successfully turned the situation around. But fast-forward a few years and his busy lifestyle left its mark. While still generally of a slim build, he was bothered by his pot-belly and hips and had no time for healthy eating and exercise.
What is a pre-workout?
Pre-workout supplements, or PWOs, are specifically aimed at enhancing your workout performance, allowing you to work out harder for longer – perfect if you're not getting a lot of gym time and want to make the most of every moment!
"I'm regaining my shape and my desire to get moving"
Virgilio had tried using food supplements before, but was never convinced by their effectiveness: "I've never really felt like the results were coming from the supplements", he says. But with PowGen, his experience couldn't be more different.
Intrigued by an online ad, he made his first purchase just over a year ago and hasn't looked back since. He's been reaping the benefits of powerful fat burners like 6Pack Accelerator, L-Carnitine, Definition Drink and our unmatched PWO, 5-in-1 Pre-workout: "I can say with certainty that thanks to 5-in-1 Preworkout, I'm regaining my shape and my desire to get moving despite having very little time for exercise".
How do PWOs work?
PWOs increase oxygen delivery to the cells to boost energy production, fat burning and performance. While some contain questionable substances, 5-in-1 Preworkout is powered by natural ingredients like guarana, green tea and cayenne that are both safe and super effective!
"My body is more defined than ever"
The results were quick and noticeable on several levels: "I immediately felt that I was doing something right for my body and, although I've never had any issues connecting with others, I felt incentivised to go out, I felt more confident".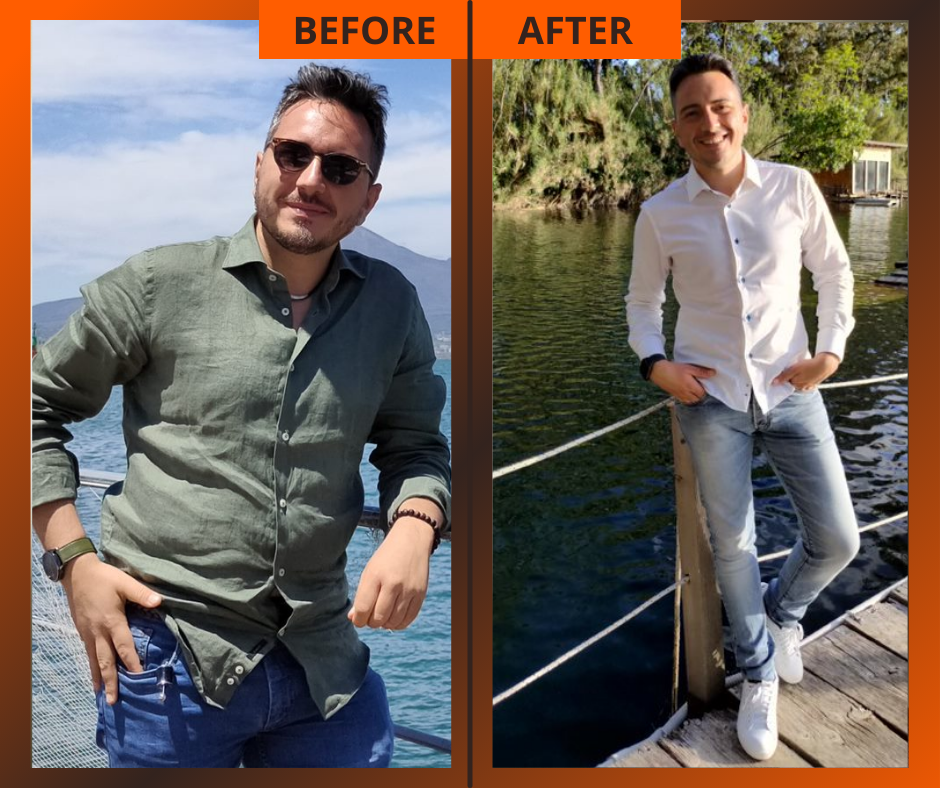 Virgilio often struggles to follow a healthy diet and find the time for regular workouts. But by boosting his efforts with 5-in-1 Preworkout, he has still managed to achieve impressive physical results: "By the summer, my body was more defined than ever – I look better at 38 than I did at 28!"
5-in-1 Preworkout – the only PWO you'll ever need!
Like Virgilio, you can get amazing results, too – with 5-in-1 Preworkout: a unique exercise and energy boost that will get you pumped up for your workout and help you get the most out of it:
Increases your energy and alertness

and makes you want to

move your body

Improves endurance

and helps you

push yourself

that little bit further

Revs up your metabolism

and helps you burn fat to

increase muscle definition
Order now at a special discount and get ready to ramp up your energy levels, boost your endurance and smash your fitness goals!
*Results may vary from person to person. A varied and balanced diet and a healthy lifestyle are important when it comes to weight loss.