Easy Burn
For burning fat during your rest days.
Speeds up fat burning
Boosts metabolism by up to 20%*
Elevates your energy levels
Makes your body use fat as a primary source of fuel
No exercise required
PowGen has over 110,000 happy customers all over Europe
*[Results may vary. Dietary supplements should not be used as a substitute for a varied and balanced diet and a healthy lifestyle, which are important.]
FREE GIFT

The ultimate e-book for faster weight loss and free access to a 4-week video exercise programme!
Contents : 15 sachets for 15 days
30-Day Money-Back Guarantee
If for any reason you are not completely satisfied, simply return the empty package and get a full refund. More
Buy
Try
Return
Money back
Get free access to the online gym & the slimming e-book with your purchase!
Get a free e-book with delicious weight-loss recipes and a ton of tips and tricks on how to get in shape. We also developed a free 4 -week video exercise programme to tone your whole body.
Combine with our premium PowGen products for faster results!
Wake your body up on rest days with green coffee, kola nut and ginger extracts! Beat fatigue with vitamin B3!
Who says that your off days should go to waste? Easy Burn will work towards that sculpted body, even when you don't feel like it! Do you have a sitting office job? Drink Easy Burn in the morning, shift your metabolism into high gear and set your body fat on fire!
CLINICALLY-PROVEN EFFECTS
A study has shown that Easy Burn users burned substantially-more fat! Your energy levels will spike and your fat levels will drop.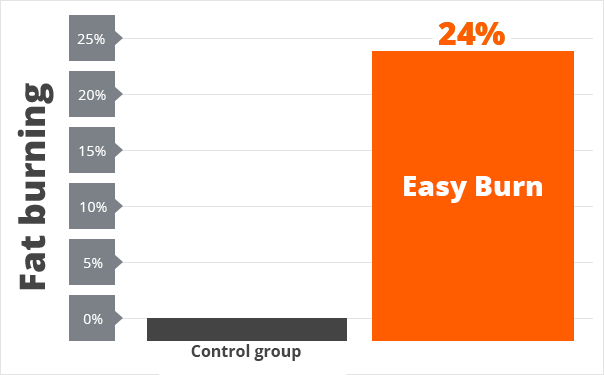 "We all know how important but also tiring preparations for the new football season are. I decided to use PowGen EasyBurn for that extra energy kick and to build more strength. I've used one box and I really feel that I've more energy and that my training results have improved. I like the flavour of the drink and the fact that it's so easy to use. I drink it every day, even when I'm not active, so that I can still enjoy pizzas and burgers. It's fantastic and I strongly recommend it to my teammates."

- Damir
"I FEEL IT WORKING EVEN WHEN I'M RESTING!" I'm a very active person. I like hiking, climbing, jogging, cycling, snowboarding and playing volleyball. With everyday tasks and all my hobbies, I frequently feel like I don't have any energy left.
I decided to try L-Carnitine Max Power and Easy Burn to give myself a boost of endurance and energy. I've been using these products for 2 weeks and the results have been great. Even though it wasn't one of my goals, I lost 4 kilos. I felt a difference immediately. My metabolism works better, I have more energy and I feel it working even when I'm resting. I can enjoy snacking without worries now!

- Blaž F. BURNS MORE FAT
CHARGES YOUR BATTERIES SCULPTS YOUR BODY BOOSTS WEIGHT LOSS
Contents : 15 sachets for 15 days
Food supplement with sweetener
Ingredients (in 1 sachet):
(in 1 sachet): carrier: acacia gum, Carnipure®️ [L-carnitine L-tartrate] 1000 mg (L-carnitine 682 mg), green mate leaves extract with 8% caffeine 1000 mg (caffeine 80 mg), guarana seed extract with 10% caffeine 700 mg (caffeine 70 mg), papaya mature fruit juice powder with 6 USP units/mg proteolytic activity of papain 500 mg (3000 USP units papain proteolytic activity), natural mango flavor, nicotinamide (niacin 80 mg – 500% NRV*), anti-caking agent: rice fiber, acidity regulator: citric acid, sweetener: sucralose. Carnipure®️ is a trademark of Lonza Corporation.
*NRV = nutrient reference values
How to use:
The recommended daily intake is 1 sachet. Dissolve it by stirring vigorously in 250 ml of water. Stir thoroughly to dissolve any lumps. Drink it after a meal.
Warning :
If you are hypersensitive or allergic to any of the product ingredients or use medication, consult your doctor before use. This product contains caffeine and it is not recommended for children, pregnant and breastfeeding women (caffeine content: 150 mg/1 sachet).
Important:
The recommended daily intake should not be exceeded. Food supplements should not be used as a substitute for a varied, balanced diet and a healthy lifestyle, which are important.
Storage:
Keep out of the reach of children! Store in a cool, dry place at temperatures below 25°C.
NET WEIGHT: 45g
RESEARCH & SOURCES:
1. R. Hursel, W. Viechtbauer, M. S. Westerterp-Plantenga. (2009). The effects of green tea on weight loss and weight maintenance: a meta-analysis. International Journal of Obesity (2009) 33, 956–961. Available at: https://www.nature.com/ijo/journal/v33/n9/full/ijo2009135a.html
2. E. M. R. Kovacs, M. P. G. M. Lejeune, I. Nijs, M. S. Westerterp-Plantenga. (2004). Effects of green tea on weight maintenance after body-weight loss. British Journal of Nutrition, 91, 431–437. Available at: https://www.cambridge.org/core/services/aop-cambridge-core/content/view/S000711450400056X
3. Onakpoya I, Terry R, Ernest E. (2011). The use of green coffee extract as a weight loss supplement. A systemic review and meta-analysis of randomised clinical trials. Gastroenterol Res Pract. 2011;2011. Pii: 382852. Available at: https://www.ncbi.nlm.nih.gov/pmc/articles/PMC2943088/
Easy Burn