L-Carnitine Max Power
Capsules that incinerate body fat!
5x faster* fat burning
16%* more fat burned
Get more results from less exercise
Torch through body fat with a powerful thermoburner effect
Boost your endurance and energy
FREE GIFT

The ultimate e-book for faster weight loss and free access to a 4-week video exercise programme!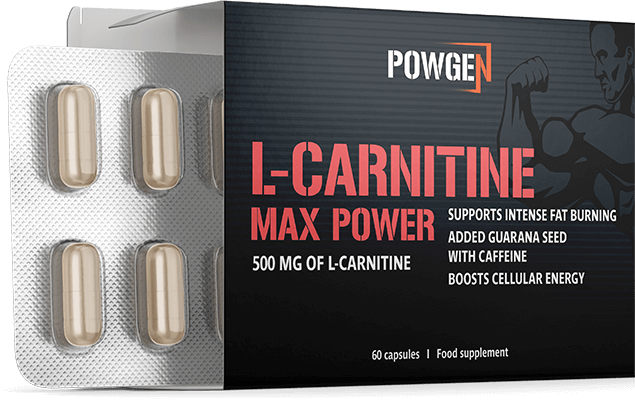 Contents: 60 capsules for 30 days
30-Day Money-Back Guarantee
If for any reason you are not completely satisfied, simply return the empty package and get a full refund. More
Buy
Try
Return
Money back
Get free access to the online gym & the slimming e-book with your purchase!
Get a free e-book with delicious weight-loss recipes and a ton of tips and tricks on how to get in shape. We also developed a free 4 -week video exercise programme to tone your whole body.
Combine with our premium PowGen products for faster results!
The hard-hitting formula in L-Carnitine Max Power will send your metabolism rate through the roof!
Enhanced with a Swiss innovation – a special grade of L-carnitine for perfect purity and accelerated results – with added guarana extract! Use it as a workout booster or as a metabolism enhancer – perfect for your mornings!
Why is Carnipure® the king among L-carnitine forms?
it's the purest L-carnitine available anywhere! Carnipure® is backed by decades of research and has a great track record of safety and efficacy. Over 8000 studies confirm its outstanding results!
it's the absolute BEST formula for your muscles: L-carnitine L-tartrate has the fastest absorption for the fastest effects!
Carnipure® is the formula used in trials and research on sports regeneration, weight loss, endurance, healthy ageing and male fertility by universities all over the world!
The results are amazing:
Burns fat throughout the resting phase
Burns 16% more fat*
5x faster weight loss*
Delivers results of a 100-minute workout in just 20 minutes
Optimises muscle-to-fat ratio – for a laser-cut physique
"TRAIN HARD AND GET THE BEST RESULTS" "I'm an avid handball player and I train daily. If I want be great at it, I have to follow a special diet and take supplements. With this amount of training, it's really easy to feel low on energy.

I decided on PowGen's L-Carnitine Max Power. Aside from raising my energy levels, it helps me boost my endurance and regenerate my muscles after training. Since I want to train hard and get the best possible results, I take L-Carnitine Max Power every single day!"

- Rok
*[Results may vary. Dietary supplements should not be used as a substitute for a varied and balanced diet and a healthy lifestyle, which are important.]
ENERGY, FOCUS, POWER
Guarana and L-carnitine function in perfect synergy – whether you work out or not! Increase your blood flow, boost your endurance and pump up your motivation ... or simply intensify fat burning as you go about your day. Increase endurance Annihilate fat Boost metabolism Lose weight THE PUREST L-CARNITINE ON THE MARKET
Unlike other L-Carnitine supplements, L-Carnitine Max Power does not contain any harmful versions (such as D-carnitine).
Our high-quality L-Carnitine is backed by decades of research! SUITABLE FOR EVERYONE
Its thermogenic effect will work whether you go to the gym every day or every decade.
Suitable for vegans and vegetarians.
Contents: 60 capsules for 30 days
Food supplement
Ingredients (in 2 capsules):
Carnipure® (L-carnitine L-tartrate) - (L-carnitine 500 mg), guarana seed extract with 10% caffeine 440 mg, anti-caking agent: magnesium stearate of vegetable grade, capsule: hypromellose, colorant: titanium dioxide.
How to use:
Recommended intake is 2 capsules daily with a glass of water after a meal.
Warning:
If you are hypersensitive or allergic to any of the ingredients of this product or use medication consult your doctor before use. This product is not recommended for pregnant or breastfeeding women.
Important:
The recommended daily intake should not be exceeded. Food supplements should not be used as a substitute for a varied, balanced diet and a healthy lifestyle, which are important.
Storage:
Keep out of the reach of children! Store in a dark, dry place at temperatures below 25°C.
NET WEIGHT: 45 g.
RESEARCH & SOURCES:
1. R. Hursel, W. Viechtbauer, M. S. Westerterp-Plantenga. (2009). The effects of green tea on weight loss and weight maintenance: a meta-analysis. International Journal of Obesity (2009) 33, 956–961. See: https://www.nature.com/ijo/journal/v33/n9/full/ijo2009135a.html
2. E. M. R. Kovacs, M. P. G. M. Lejeune, I. Nijs, M. S. Westerterp-Plantenga. (2004). Effects of green tea on weight maintenance after body-weight loss. British Journal of Nutrition, 91, 431–437. See: https://www.cambridge.org/core/services/aop-cambridge-core/content/view/S000711450400056X
3. Onakpoya I, Terry R, Ernest E. (2011). The use of green coffee extract as a weight loss supplement. A systemic review and meta-analysis of randomised clinical trials. Gastroenterol Res Pract. 2011;2011. Pii: 382852. See: https://www.ncbi.nlm.nih.gov/pmc/articles/PMC2943088/
L-Carnitine Max Power